I made a new tulle wreath last week that I'm completely in love with now!
I marked off 1/4 of the wreath for the blue tulle, then just tied the tulle all around the wreath. First, all the blue, then I alternated the red and blue tulle until I had filled up the entire wreath.
I painted 3 wooden stars white, spray painted them clear since it's an outside wreath, and hot-glued them to the wreath. I took 3 strips of leftover tulle and braided them together to make the hanging ribbon. It's just hot-glued on the back of the wreath.
I love it! It's so pretty on the front door! I'm excited to move into our new apartment, because our new front door will be visible on the street. Right now, the only people who see our wreath besides us are our neighbors and anyone who comes over. =] Excited to move even more now!
I was featured at Shaken Together!

I was also featured at
The Gunny Sack!
I was featured at
Healthy Mommy!!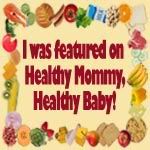 Linked up at -